Support Deaf and Dumb School in Bhimavaram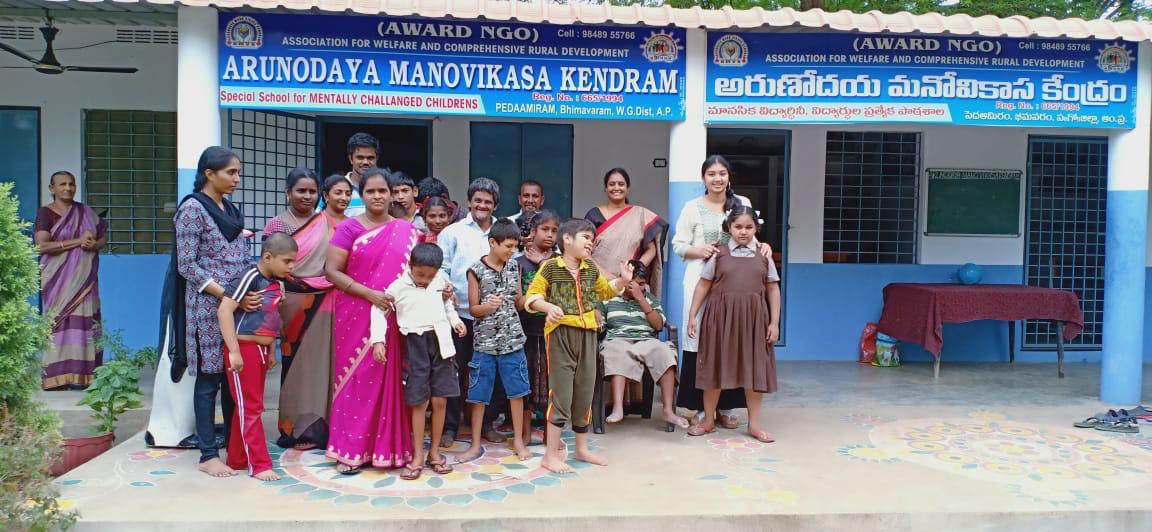 Hi! I am Arshiya, a 10th grader at Independence High School, I recently went to my hometown Bhimavaram, India and visited a deaf and dumb school. Here is my experience.
Arunodaya Manovikasa School for the deaf and dumb has been running since 1998 to help the mentally challenged kids with basic life skills. The retardation of each child is at a different level and some students do require more help. The school starts around 9AM, autos transport these kids to and from the school. The head of the school, Aruna Aunty, also lives in the school. She pays for everything including transportation, food, and the salaries of the teachers. The school has not had a fixed location until the past three years. They rented out places to teach and help these children. When they rented out spaces, they shifted from bigger places to smaller places each time. They started out with around 200 students and as they have switched to smaller places to rent, they are losing money. That money used to be used to pay salary for teachers, get food for the children to eat, and to pay for transportation to and from there individual homes. Three years ago, the money that the school had was invested to build a building of their own. This way they would not have to keep using their money to pay extra rent. Although they do not have that rent to pay, they do have the pay electric bills and water bills to maintain the building they now own. It is the teachers' responsibility to keep the children safe so currently, at the school, they are building a shed to be used as a cafeteria. This way, instead of sitting outside in dangerous heat, they can sit in some shade and eat their lunches. To do all these things, they have lost money to be able to pay the salary of the teachers. Therefore, the number of teachers has dropped as well as the number of students. Once they have built the new school building, the student count has gone from 200 students and 37 with six teachers. As well as not having enough money for teachers to support extra students, they are running out of money to pay for transportation as well.

During my stay in India, I went to visit the school. All of the students have very close relationships with the teachers that work there even though there are very few. One parent came to see Aruna Aunty since it was the opening day of the school. The parents as well seem to have a very close relationship with Aruna Aunty. I would walk through the classrooms and see that the materials they would use to teach were used a lot and were fairly worn out. I feel that they use all the money to pay for food, transportation, and salaries that they don't pay attention to the quality of the teaching materials they are using. The materials they use are things that we see in preschools and lower grades in elementary schools. They are trying to teach basic things such as colors, fruits, shapes, and body parts. As well as raising money for these kids.
Its unfortunate that there is so much neglect towards mentally challenged kids in India. I would like to collect donations and carry toys that could teach these students in simple ways. Please donate!!