Destiny – 2018 Support Artists with Autism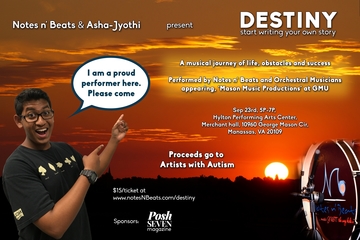 What is this event about?
Asha-Jyothi is working with a local Ashburn, VA based music school called "NOTES N' BEATS" to organize a musical event called "DESTINY" in Fall 2018. Music from the West and the East covering Rock, Pop and Bollywood will be performed by Orchestral Musicians appearing courtesy of 'Mason Music Productions' at George Mason University and the students of NOTES N' BEATS Music School. Every family that attends the concert will receive an artwork from artists with autism.
What is the mission of this event?
The music event, DESTINY's mission is to promote and support individuals who live with Autism and are trying to make a living by selling their exceptional talent in the field of art. The musical event DESTINY will also commemorate these artists in wanting to make a living with dignity and for their courage in fighting through their struggles.
How can YOU Help?
BUY TICKETS ($4/ticket surcharge when purchased online; Avoid it by paying by check or reaching out to info@notesnbeats.com)
BE A SPONSOR (Sponsors to see this 3 MINS VIDEO. Depending on the level of sponsorship, you can promote YOUR message or YOUR BUSINESS's information in our event as videos to be played to the 1000 attendees, ad in program brochure, business name on wristbands, etc. ADDITIONALLY, you will also receive artwork from the artists with autism themselves – Museum quality reprints, customized products such as tote bags, calendars, etc.)