Help COVID-19 Crisis in India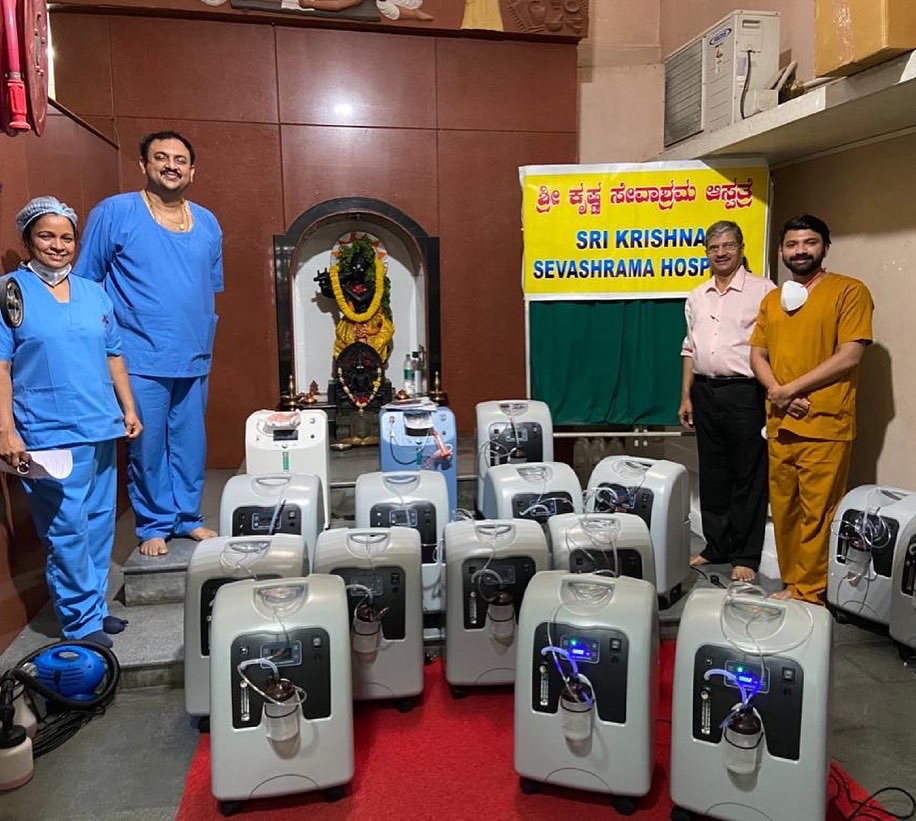 Asha-Jyothi (AJ) sprung to action to provide COVID relief in this extremely dire situation of second wave of COVID-19 spread in India. Despite several hurdles AJ successfully distributed 300 Oxygen Concentrators (OCs) which was the need of the hour. AJ Team immediately called and emailed multiple vendors and ordered OCs. AJ team collected requests from people from India and USA on the requirements and coordinated relentlessly with partners on the ground, Mission Oxygen, Doctors For You, Think Peace and Annapoorna Trust who became AJ's trusted partners during this process.
Sekhar Puli, Asha-Jyothi founder, noted "this process was very tough, to follow multiple vendor leads, weave out real vs fake vendors, make payments for OC orders , coordinate the delivery of the OCs to local government hospitals in different towns in India with paperwork. The whole experience was grueling as many COVID patients' lives were at stake. This was only possible with complete support and collaboration from our donors who we are grateful to, as it helped us make a huge impact during this pandemic".
Asha-Jyothi immediately committed $25K when the campaign started. After assessing the severity of the spiraling crisis situation in India, the target was increased to $100K. As Asha-Jyothi started supporting the needs of OCs, with more requests flowing in from multiple cities, and remote towns, the goal was revised upwards multiple times, currently standing at $300K. In addition to OCs, overwhelming requests for medical supplies, diagnostic equipment were supported. We reached out to our donors, partners and corporate sponsors and thanks to their overwhelming support we are able to deliver medical equipment, supplies and integrated systems to a greater level.
Overall, as of date, $475,000 worth of equipment, supplies, systems are delivered:
– 3 Oxygen Plants (Machilipatnam, Gangavathi and Madira – Work on establishing the plants at sites is in progress)
– 4 Oxygen banks donated by AJ volunteers (Vizag, Vijayawada, Guntur and Hyderabad)
– 300 Oxygen Concentrators (OCs) in 30 cities/towns
– 500+ Medical Supplies/Equipment
– 5000+ COVID relief medicinal kits home delivered to patients
Here are some highlights of the work we have done thus far.
Gangavathi government hospital staff and doctors in Bengaluru thanking Asha-Jyothi for OC donation.
Doctor Sruthii at Pamarru government hospital, Andhra Pradesh thanks Asha-Jyothi for our swift and timely response.
South Central Railways thanks Asha-Jyothi Team for donation of 7 Oxygen Concentrators and medicines.
Nellore hospital staff thanking Asha Jyothi for donation of Oxygen Concetrators.
Hospitals Supported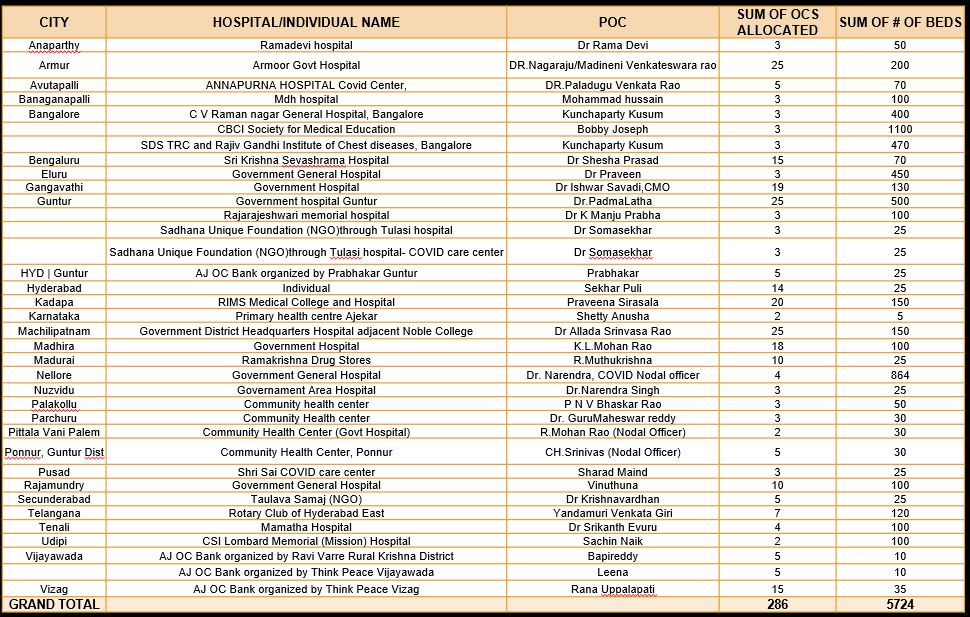 Additional Hospital Supplies